PROJECT OVERVIEW
Fun days at the theme park shouldn't be spent wasting time in line, interpreting intricate maps or aimlessly searching for friends - and now they don't have to be. My team created a proof of concept called IBM Ready App for Venue, a powerful way for theme parks to engage with their visitors and put the most relevant information right into their hands.
USER RESEARCH
When we first began this project, we had several assumptions regarding theme park visitors and their pain points. We had all visited a theme park at one point or another, but it was clear that a "refresher" was in order. We chose a popular theme park in the area and organized a field trip for some observational research.
We entered the park with a list of key objectives to observe. First, we were interested if people were actually using the park's mobile app, so we made sure to study visitors' phone use. We also wanted to see how employees communicated ride closures and weather alerts to park visitors. Lucky for us, our field trip took place on a dreary, overcast day, complete with thunder and lightning. We were able to observe how frustrated visitors reacted when all major rides were shut down until further notice. There was no organized system in place to alert visitors and several were still entering the park, unaware of the confusion that awaited them. The weather may have upset the visitors, but it gave our design team a perfect environment to observe pain points.
MOBILE APP
After gathering our notes and photos from the field trip, we designed a mobile app that focused on keeping the theme park visitors up to date on park activity. This includes ride wait times, important alerts, and even their friend's location if they become separated. Our goal was to solve the user pain points that we both witnessed and experienced first hand. With all of our collected observational research, we were able to validate our design decisions with our stakeholders and design a solution that provides a more delightful experience for theme park visitors.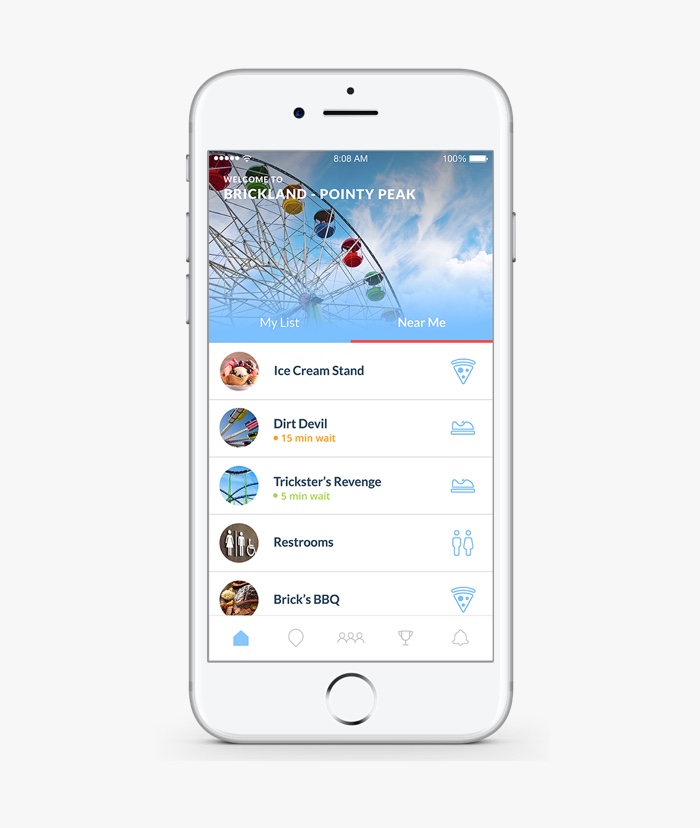 Visitors can now view nearby attractions and current wait times, all from the home screen of the app. Instead of wasting time waiting in line or aimlessly searching for the right attraction, visitors can now plan their day strategically and make the most of their trip.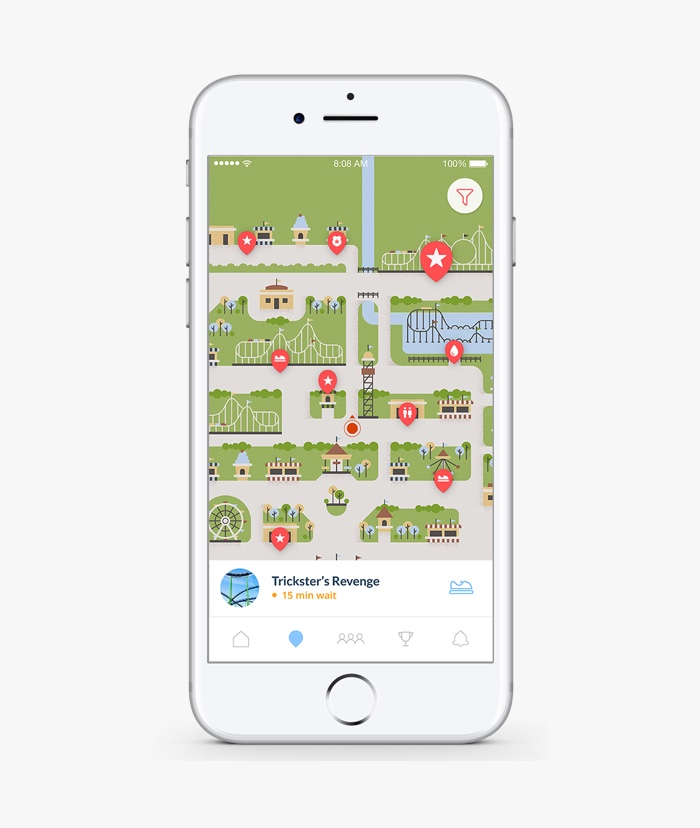 With a detailed filtered map, visitors can now navigate through the theme park with ease. They can see their location in relation to various attractions, which can even be filtered by type to help visitors find exactly what they're looking for. They can also see the location of their friends so that they don't get left behind.
Once they find an attraction that they're interested in, visitors can view detailed information and see what the current wait time is. Instead of having to physically walk over to the other side of the park to find out how long the line is, now a visitor can simply check the current wait time right from their mobile device. If the line is too long, they can spend their time purchasing souvenirs or concessions, which benefits the theme park and boosts sales.
Receive Tailored Notifications
Personalized notifications help visitors stay in the loop with what's happening around the park. Visitors can receive contextual coupons, weather alerts, and ride closure information. Now when the theme park needs to close rides during a storm, they can notify them right from their mobile phone.
Created at the IBM Cloud Experience Lab